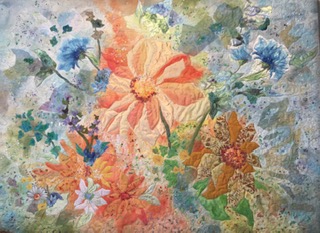 Pam has lived in Nebraska her whole life and although she presently lives in the city of Lincoln.  She draws much of her inspiration for her art from her love of landscapes and the ever-changing colors and textures of God's creation. Pam has been on a journey with her creative gifts, been influenced and encouraged by many people and has taken a few art classes to expand her knowledge, but is mostly self-taught.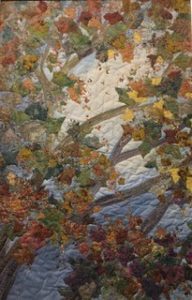 In an effort to find a place to pursue her artistic gifts she became involved with the arts ministry at her church, taking and facilitating classes, creating pieces for themed gallery shows, and served on the arts directional team. Since retiring Pam has been able to spend more time working at her art and has been fortunate to show her work at Noyes Gallery in Lincoln, Red Path Gallery in Seward, The Barn at Wildwood in Nebraska City, and at various shows through the Lincoln Artist Guild.
Pam has dabbled in several mediums but most recently has focused on fabric mosaic art and cold wax/oil.
In the Fabric Mosaic art projects Pam begins with an underpainting and then is layered with various pieces of fabric built up to create shadow, depth, and texture. After putting this together as a quilt "sandwich" and an additional layer of tulle, she uses free-motion stitching to create the details that bring the piece to life.
The cold wax/oil projects also use a layering element in their creation with various techniques to create texture or peel back areas to reveal the mystery beneath.
The overall theme for Pam's body of work is "Pieces of Life" and it gives her joy to connect with others, share the stories behind her art pieces, and trigger happy memories or moments in their own lives.
During Art Walk Aurora, Pam will be featured at The Cottonwood Gallery & Arts.